Back in 2013, when Japan won the race to host the Summer Olympics in 2020, the plans for the event were completely different to what we ended up experiencing. For starters, no one thought they would be taking place in 2021. The empty stadiums, travel restrictions and social distancing have not allowed Tokyo 2020 to feel like a normal Olympic celebration. And yet, an intriguing combination of content creators and video games have brought the event to people in every corner of the world. From the anti-sex bed challenge on Tik Tok to the esports Olympics. Tokyo 2020 has not been a usual celebration but influencers and video games have brought us closer to the land of the rising sun.
Video games accompanying the Olympic flame
Video games and sports have always been closely related. FIFA is, of course, one of the most popular video games in the world. It is also one the most profitable, particularly since the release of the wildly successful FIFA Ultimate Team. In recent years, video games have been part of the Olympics in a range of other ways. For example, the Olympics themselves release a video game version of their iconic event every four years. Nintendo also launches their own version of the event with Mario and Sonic playing key roles in the title. But video games have never played such an important role in the event as the one they had this season and one that is rather inspiring.
During the Parade of Nations on the opening ceremony, athletes from all over the world marched into the empty stadium proudly waving their countries' flags whilst soaring, orchestral versions of renowned video games soundtracks played in the background. Team GB entered the parade to an orchestral version of 'Star Light Zone' from Sonic The Hedgehog- which seemed fitted as Sonic, the blue hedgehog, matched the colour schemes of the British team. And by contrast, the Japanese team entered the stadium to the music of Dragon Quest – Introduction: Lotto Theme.
As soon as these iconic tunes started playing, avid gamers rushed to Twitter and shared the joy of hearing their favourite video game soundtracks at such an important event as the Olympics. This generated a wave of video game-related tweets on the Olympics hashtag, taking it to a trending topic worldwide and capturing the attention of many gaming enthusiasts. The choice of music became the biggest talking point of the ceremony, bringing a cultural resonance to what could otherwise have been a rather dry affair in light of strict Covid restrictions.
The Tokyo Olympics 2020 Opening Ceremony has proven irrefutably that gaming's influence on sports, and vice versa, does not have to be limited to traditional licensing arrangements and cross platform launches. They have proven that video game music is another standalone genre and sub-culture in the industry, which can fit perfectly into important events outside the gaming world.
But gaming's influence on this year's rather strange Olympics does not end with music. The International Olympic Committee hosted five esports tournaments for the first time ever ahead of the summer event. These five events were a digital format of baseball, cycling, rowing, sailing and car racing. The decision to do this came from a desire to encourage the development of virtual sports and grow digital engagement with modern audiences.
"The Olympic Virtual Series is a new, unique Olympic digital experience that aims to grow direct engagement with new audiences in the field of virtual sports. It encourages sports participation and promotes the Olympic values, with a special focus on youth."

IOC President Thomas Bach
Although the digital series was not on any major platform such as League of Legends or Counter-Strike, this first event symbolizes a step in the right direction to blend URL and IRL. It also meant that people could engage with and be part of the Olympics from the comfort of their homes.
Gaming has now become a true facet of mainstream culture, and like everyday people, most athletes will have fond memories with some kind of video game, from the classics to more indie games. This is particularly true for Vitalina Batsarashkina, a Russian athlete who won a gold medal in the Women's 10m Air Pistol event. During the 2021 competition, Batsarashkina wore a Witcher medallion around her neck in a similar way to how in Rio 2016, she wore a Witcher medallion hanging from her pants and even wore some Witcher illustrations on her shooting glasses. A wonderful example of gaming joy pervading the entire Olympic experience for this athlete!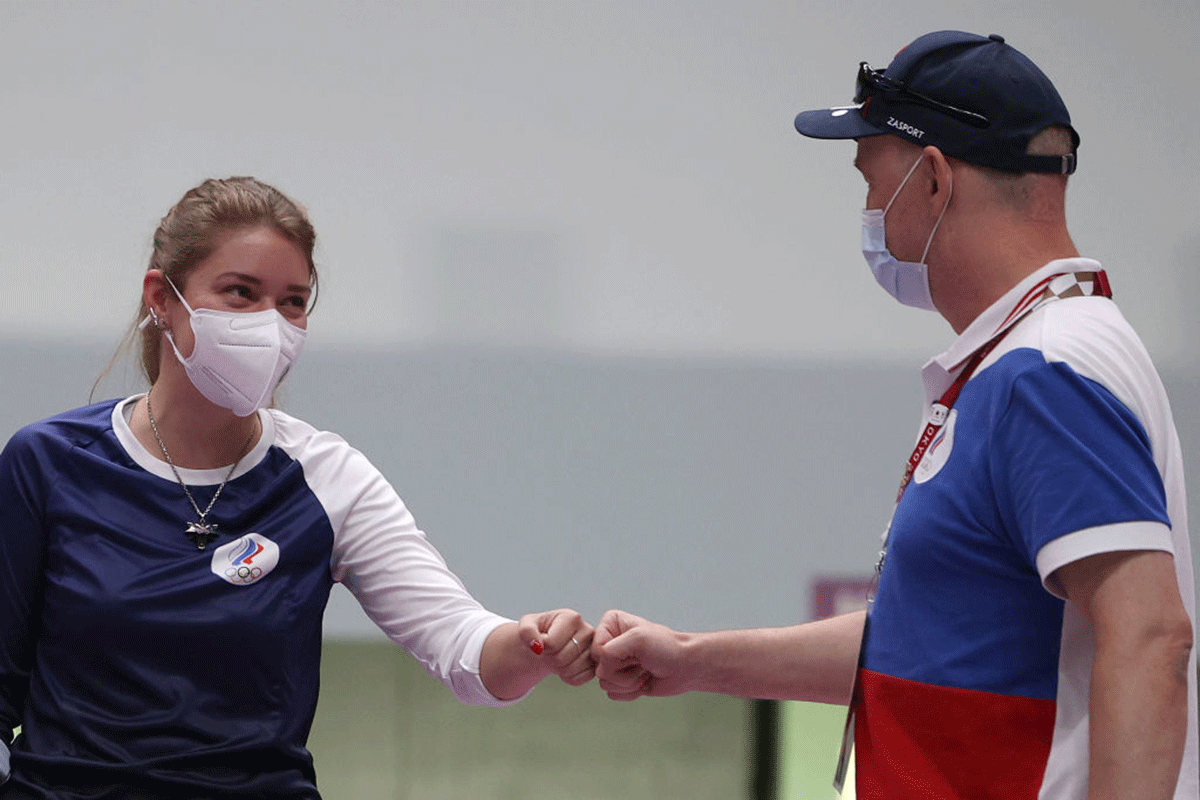 From the former Japanese prime minister Shinzo Abe dressed as Super Mario in the closing ceremony of Rio 2016, the interactive Google doodle sports-themed mini-games, the esports events, and the opening ceremony music, Tokyo 2020 has been an ode to the gaming world. These have brought passion from fans, moments of unpredictable genius, an impact on youth culture, and have connected us all through competition. This Olympics has proved that gaming and sports have more things in common than we think, providing a unique platform for content creators to spread and share their voice.
Content creators themselves perhaps truly deserve a gold medal of sorts.
Tokyo 2020 has of course had the lowest ever number of in-person spectators but a new type of virtual and digital interaction has been provided through the creativity and imagination of the content creators.
Olympic athletes have always enjoyed very high profiles in the eyes of media during the Summer and Winter events, participating in brand partnerships and TV advertising campaigns. Yet this is the first-ever summer Olympics in the era of Tik Tok, which proves how crucial social media has become for people's engagement to events. These Olympic athletes have become influencers as they have been creating their own content. They have shared their thoughts and experiences on online platforms through Tik Tok trends, YouTube vlogs and candid tweets. Users in different channels are now able to see a different side of the Olympic events and see what they look like from the point of view of a professional athlete.
"I know we're seeing the highlight reel, but it's the closest I have ever felt to the Olympics, and it's happening during one of the most isolating periods in modern history."

Source: Online blogger
The hashtag 'OlympicTikTok' has already hit 22 million views with athletes such as Ilona Maher (Team USA Rugby) and Laviai Nielsen (Team GB Track & Field) documenting their experiences on the platform. Tik Tok has offered something that we have never seen before, good coverage of what athletes experience in the Olympic Villa. And it all started with a cardboard bed.
Paul Chelimo (Team USA Track & Field) shared on Twitter that the beds on the Olympic Villa were made out of cardboard to avoid intimacy between athletes, as the beds would only be able to support one individual. The entire internet started talking about it, and as athletes arrived in Japan, they could not help but share the findings in their rooms. Rhys Mcclenaghan (Team Ireland Gymnastics) posted a video on Twitter jumping in one of the beds, claiming that the 'anti-sex beds' were just a rumour. The video went viral and more athletes started sharing videos of them jumping on the beds.
This trend has created a novel advertising opportunity for Airweave (Japanese manufacturer of the Olympic beds) as beds that were planned to be only seen by professional athletes have hit every corner of the world, and proved their quality and durability in a fun and interesting way.
Against an extraordinary backdrop and set of profoundly challenging conditions, social media has created a strong community for the Olympics that nobody could have anticipated. From the gaming conversations to the Tik Tok insights, everyone has been able to be part of the event. The athletes and the content creators alike have proven once again the powerful ability of influencers to turn strange turns of events into compelling, snackable and viral content.
At Edge, we believe in the power of influencers to create truly wonderful marketing campaigns that can have profound impact for good. We ourselves play a crucial role in providing a platform for first-party analytics that help you track real-time metrics so you can create the right impact for the right audience. This allows you to be responsive to trends and do influencer marketing right rather than being reactive and hoping the crowd supports your cause.
Curious and want to know more? Let's have a chat, book a demo here.